---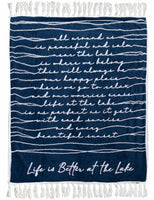 Life Is Better at the Lake Inspirational Plush Blanket
Pavilion
All around us is peaceful and calm, near the lake is where we belong. This will always be our happy place, where we go to relax and our worries erase. Life at the lake is as perfect as it gets, with each sunrise and every beautiful sunset. Life is better at the lake
PREMIUM QUALITY: 50" long x 60" tall and .5" wide premium throw is made from 100% polyester plush jacquard with thirty-one hand-made knotted tassels at both the top and bottom of each blanket which extends the height of the blanket to 72.5" in total. The excellent packaging consists of a silk white bow-tied ribbon with a cardboard band containing material and sizing information. Attached is a thick paper tag with the entire blanket sentiment. The blanket is neatly folded and securely attached to white wood and a silver metal hook hanger.
IN-HOUSE DESIGN: Risen cursive sherpa "All Around Us Is Peaceful And Calm, Near The Lake Is Where We Belong. This Will Always Be Our Happy Place, Where We Go To Relax And Our Worries Erase. Life At The Lake Is As Perfect As It Gets, With Each Sunrise And Every Beautiful Sunset. Life Is Better At The Lake" sentiment is conveyed by wave-line thread lines connecting the ends of the words to the edge of the blanket on a beautiful deep navy background.
PERFECT GIFT: The lake is a beautiful getaway to soak up the sun, ride the boat around, set next to the fire, and create summertime memories that will last a lifetime. So give your lake lover friend the best cottage lakeside housewarming present.
CARE INSTRUCTIONS: Machine wash cold on a gentle cycle with like colors. For best results, hang or lay flat to dry. It can be tumble-dried on a low setting for 20 minutes. Never bleach or iron.